Ramone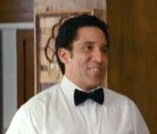 Profession
Waiter :Stripper :Store clerk :Minister
[[:Category:{{{Images}}}|Images]]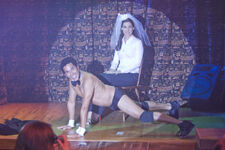 Ramone
is an omnipresent citizen of
Sitka
who holds a number of jobs. He is seen as a waiter, stripper, a store clerk, and even as a minister. He is also an illegal immigrant.
Notable Relationships
Edit
Citizens of Sitka
Edit
Ramone is very well known and well liked by the citizens of Sitka, particularily for his stripping. Even Annie went on stage with him while he stripped.
Margaret Tate
Edit
Although Ramone took an instant liking to Margaret, Margaret is not too fond of Ramone. When Annie and Grace brought her to a strip club, she was brought on stage with a veil where he stripped for her and got her to smack his ass. He worked as a waiter, a store clerk that sold her a phone, a stripper and a minister for her wedding with Andrew. Ramone stripped for her, sold her a phone and almost married her and Andrew. When interviewed abut her, he said "You can tell she's a good dancer by the way she drinks her soda pop.".